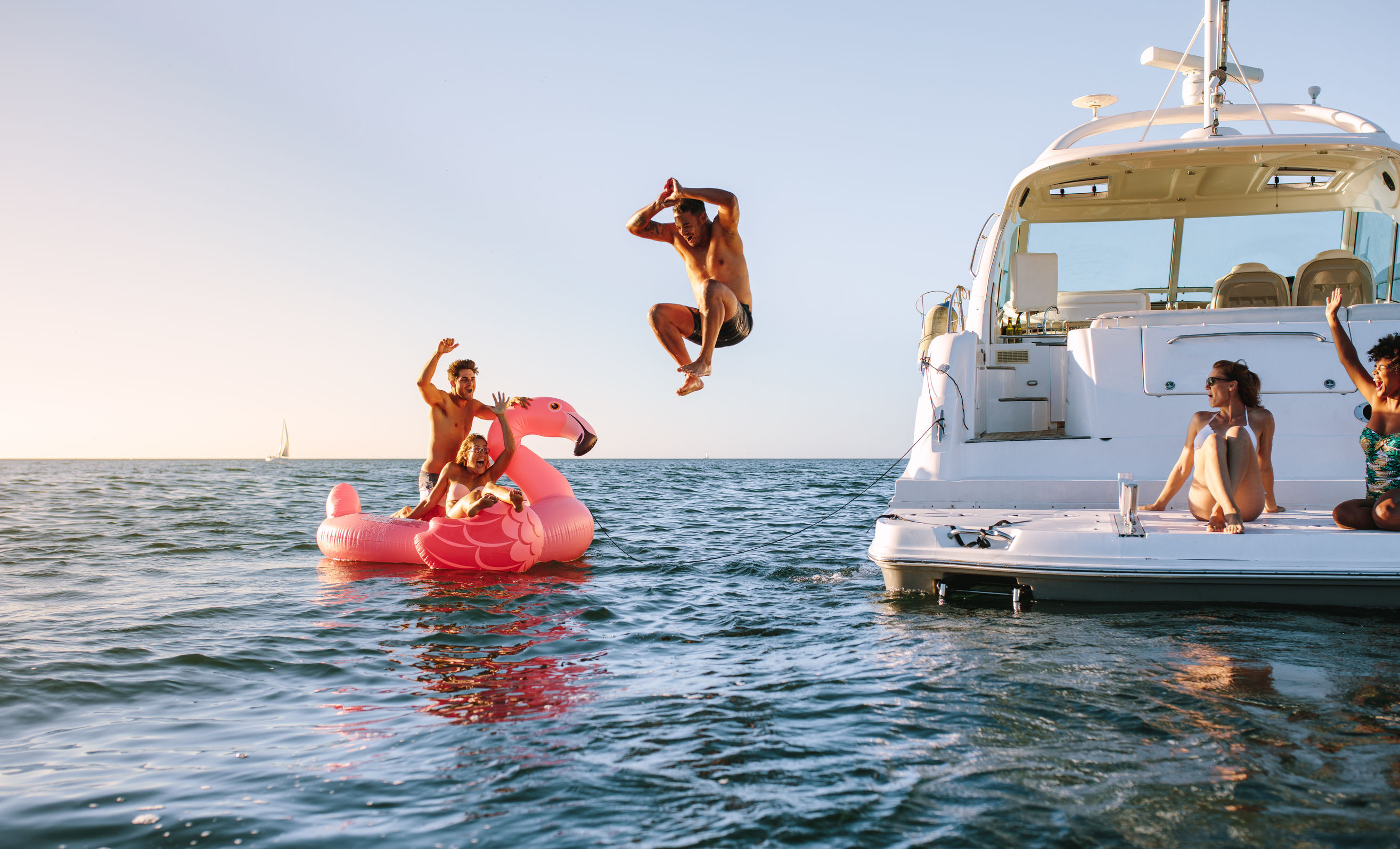 26 Dec, 2022
What you have always wanted to know about yachting, but hesitated to ask
YACHTING FEARS part 1, as it turned out, ARE ONLY THE TOP OF THE ICEBERG. MANY STILL HAVE FEARS because of the LACK OF INFORMATION AND MYTHS ABOUT YACHTING VACATION.
It's the second part of the article about yachting myths. We reveal those moments that may confuse a potential yachtsman, but he has no opportunity to ask this question to someone more experienced. We called this fear and lack of information. Our Irina Bortnik reports.
Part 2
Space No. 1. Why vacation on a yacht is better than any other vacation at sea
What do we strive for when we want to go to sea? First of all, this is all-time swimming and bronzing. But swimming from the shore you always get some kind of garbage with a surf wave, sand in shorts, a huge number of people around. On a yacht it happens in a completely different way: anchorage at night, you open one eye and ... jump into the water. Even before brushing your teeth, before breakfast, in the purest water, where you can't even see the nearest neighbors.
Space No. 2. Illusion and feeling of tightness on the yacht
Guys, for maximum clarity please watch this video.
This is our review of the smallest Bali catamaran in the range, 40 feet, Catspace. If we say that it has about 80 square meters of living space,we will not be mistaken. The math is this: 7.5 meters wide, 12 lengths, a total of 90 square meters in one level and there are 3 of them on the catamaran! If you remove everything that we do not use, it is at least 80 m. This is comparable to the apartment area (only there is more than one bathroom for everyone).

Space No. 3. Heat
This myth is not clear to me. Let me think. How do we escape the heat in the hotel? Using an air conditioner. Many boats are also equipped with it, you can open the hatches and get a draft and most importantly,at any second you can jump right into the refreshing sea.
Space No. 4. How the rest on a yacht works
This is very individual. For example, my family and I wake up, swim, have breakfast, sometimes in a cafe, sometimes on a boat. Then we go out into the passage for 2-3 hours (this is about 20 miles), stop for lunch, swim a lot and then another couple of hours sail to the bay or port. Depending on our program. Most often we cook lunch on board and the following gap is associated with this:
Space No. 5. How life on a yacht works
Lifestyle on a yacht and in a house doesn't differ completely. All our EGOcatamarans have:
- 4 bedrooms (cabins)
- 4 latrines (toilets)
- Huge cockpit (kitchen-dining room)
- flybridge (seal area)
Kitchen. There is a microwave oven, a gas stove, an oven and a huge refrigerator. We try to ensure that we have a supply of dishes and all sorts of kitchen tricks no less than in the kitchen of a professional chef.
Space No. 6. Boredom
The first time, back in 2003, my husband and I were also afraid that it would be boring. We took a hostess with us (this is a person who prepares and cleans) because no one told me in advance what a yacht is))), a skipper, since we did not have a license, and a diver. The week passed like one day. Now we put some kind of mission into every trip. The last one, for example, was to go around the Peloponnese, now we want to go around Evia. And then we will arrange a wine tour of the Cyclades island wineries.
Space No. 7. How safety works on a yacht
Cruise trips most often are coastal voyages, it means that mostly you sail during daylight hours. Passengers never need to venture out into the stormy sea. You can always wait out bad weather in a shelter. All boats are insured: damage caused to the boat is covered by the insurance company (except for a minor deductible in relation to the price of the board). The boats are built with sealed chambers that allow them to remain buoyant even in the most difficult situations. You can save yourself on a raft, on a dinghy, if not far from the shore, call for help by radio.